New Blood Art
Carefully curated artworks by outstanding emerging artists...
---
Where Did That Come From?
David Rankin
---
30 x 42 cm | 11 x 15 in
---
Subject: Abstract
Tags: Explosive, Blue, Expressive, Red, Tangled, Youth, Primary Colours
---
Original drawing in acrylic paint on paper.
"These expressive marks and brush strokes ask for a response, like a conversation. Make a gesture, look at it, take it in and respond until the conversation and feeling has been satisfied."
---
delivered to your door from £7.00
---
---
Gestural nuances and strides of diverse colour enrich the work of David Rankin. Rankin is a painter who uses past and present emotions to inform his pieces. "The feeling is building" demonstrates such emotion. Fleeting colours wash over each other, apple green crashes into a Prussian blue whilst a coral pink drives through the right, twisting up within the frame. Black circling marks seek to embrace the composition in its salvational womb. The energy and emotion that races through each piece reaches out universally, it is a visual analysis of feeling. "Beautiful Gloom" is similarly marked with organic intuition. Smoky, green-blue hues heave over the canvas in embracing, spiralling gestures. There appears in the foreground, coloured marks, surrounding each other like a distant crowd. An encompassing horizon is marked with two black lines that echo the ridges of mountainous hills. There is a twist to this scene: a glow of cadmium yellow cries out. It reclaims the composition with an awe of sun-like energy. These works are the result of externalising emotion and they maintain the energy and passion that drove them into being.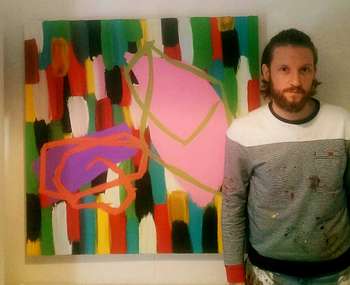 More original works by David Rankin
£140
£140
You may also like these
£900
£2360
£350
£1000
£6000