New Blood Art
Carefully curated artworks by outstanding emerging artists...
---
Where Are U
Alvar Reisner
---
42 x 52 cm | 15 x 19 in
---
Subject: People

---
Orignial paiting in oil and acrylic on cardboard.
Presented in a simple white frame.
"Girl, in this picture is looking for someone."
---
delivered to your door from £20.00
---
---
Simple statements mark the titles of the work of Alvar Reisner, an Estonian artist whose paintings appear both simplistic yet complexly illuminating, through the delicate renderings of occurrences of the everyday. While Reisner works with acrylic, the medium is applied water laden, leaking into the canvas, resulting in a dove grey translucence that soaks into the subjects and makes the work appear as part of the artists subconscious. The simpler his compositions appear, paradoxically, the more hidden meaning seems to be revealed.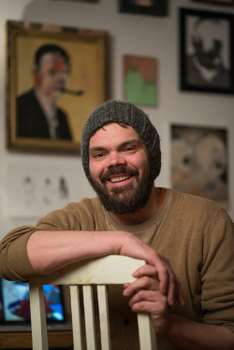 More original works by Alvar Reisner
£350
£400
£350
£250
£300