New Blood Art
Carefully curated artworks by outstanding emerging artists...
---
Spellbind
Natasha Dijkhoff
---
152 x 102 cm | 56 x 37 in
---
Subject: Abstract
Tags: Black , Abstract, Gestural
---
Lithograph and screenprint on black paper in 2 parts (diptych). Unique piece.
"I aim to keep the same energy with my prints as I create with my paintings. The beginning process with printing is similar; I draw and paint on acetate or polydraw that is guided by instinct and gradually becoming more controlled, before transferring it onto screen. Because of the use of different drawing material, the mark making is slightly different. This piece consists out of 4 different drawings combining it into one abstract work."

See work in blog post
---
delivered to your door from £35.00
---
---
See artwork in-situ
Natasha Dijkhoff's work exudes a powerful fundamental energy. Each piece ignites tangible reactions and playful responses to materiality. The rhythm of the work weaves a spontaneity that continually reinvents itself. Colours drift and interlace to create gallant patterns. The inky rivers digest each other creating glacier like forms of pigment. The work is rich with diverse organic structure set against a mixture of vivid and whimsical hues creating an antithesis that evokes ablutionary depths of natural expression.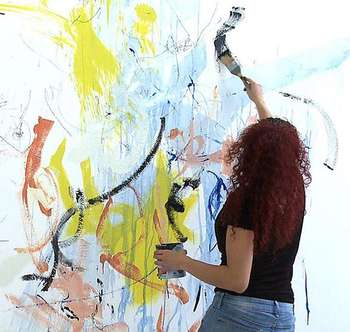 More original works by Natasha Dijkhoff
£850
£525
£700
£1100
£700
You may also like these
£450
£175
£1000
£1000
£920