New Blood Art
Carefully curated artworks by outstanding emerging artists...
---
Spaghetti Forest
Natasha Russell
---
97 x 97 cm | 35 x 35 in
---
Subject: Abstract
Tags: Intricate, Pattern, Roots, Undergrowth, Anthropomorphic
---
Hand rubbed linocut print made using oil based ink on Mulberry Paper.
Artist Proof - Limited edition of 4.
"Russell's mythic narratives exhibit a crazed level of detail, reminiscent of both underground psychedelic publishing and those surreal, overpopulated tableaux which characterise Medieval Art."
---
delivered to your door from £19.00
---
---
Enlisting a spectrum of natural phenomenon spiralled together with hints of folklore, Natasha Russell's work creates a dynamic and fascinating impact. Through detailed drawings and intricate printmaking Russell explores hidden depths of the landscapes around us. Each piece eludes to absorbing mythos whilst adopting influence from organic structures; These realms interact convincingly throughout the works to provide a dialogue between culture and environment. Swirling through caverns and reaching through forests, using blossoming lines to describe an interaction between the immediate landscape and the imagined. The monochrome and limited palettes of natural hues soothe the dexterous quality of each piece and lend an evasive curiosity that keeps viewers engaged.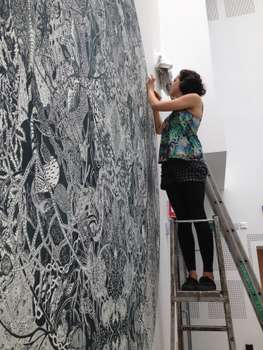 More original works by Natasha Russell
£145
£380
£180
£140
£140
£400
You may also like these
£5500
£590
£600
£295
£200