New Blood Art
Carefully curated artworks by outstanding emerging artists...
---
Reflections I (Madrid)
Debbie Ayles
---
56 x 77 cm | 20 x 28 in
---
Subject: Places/landscape
Tags: Pale, Pastel Palette, Scaffolding, Construction, Industrial, Neutral Palette
---
Original mixed media painting in watercolour and acrylic on 640gsm Arches watercolour paper with deckle edge.

"On a background of coloured washes including blues and reds further washes of pale colour, pulling out the shapes found in the landscape, are added to the surface. View from the lift at the Museo Nacional Centro de Arte Reina Sofía in Madrid showing the museum, the square and buildings surrounding the square with the cars and people hurrying by."
---
delivered to your door from £59.75
---
---
See into the world of
Influenced by the structural nature of buildings, Ayles uses a disconnected style - contrasting background and foreground to create a paradoxical visual relationship. With washes of soft colour, Ayles illuminates a cage of architectural forms in paint. The background starkly contrasts; often a crash of layers - a sea of colour and far from being mere back drop, this space is a fascinating galaxy of colour. Fluid streaks and splatters of colour freely divulge to and fro - it resonates emotion and instinct. The foreground, remains linear in stark contrast to it's environment. The work reflects our world at its most profound: the energy of human instinct and the ability to build those towering sculptures.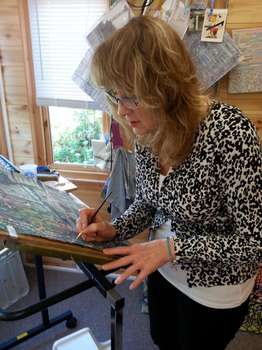 More original works by Debbie Ayles
£400
£1195
£1195
£1195
£995
You may also like these
£350
£190
£240
£175
£650