New Blood Art
Carefully curated artworks by outstanding emerging artists...
---
Pussy (2016)
Rachael Eden
---
15 x 21 cm | 5 x 7 in
---
Subject: Animals
Tags: House, Cat, Yellow, Scale/proportion, Scales
---
Original painting in Watercolour pen on paper.
"Based on a scene from an old B movie and reflecting my YouTube experiences."
---
delivered to your door from £6.00
---
---
Rachael Eden has a keen sense of materiality which she uses to her advantage to produce bold, multidimensional works of art. Utopian scenes and science fiction influences are prominent subjects. Lavish brush strokes and vibrant use of colour play together to create striking, sanguine dispositions. The juxtaposing of everyday imagery and extra-terrestrial promote the unusual and arresting impact of Eden's artistic endeavour. The possibilities available in these surrealist images are incredibly gripping. The work provokes a sense of narrative whilst continuing to mystify.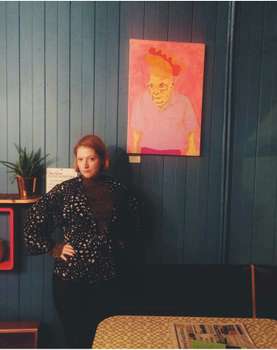 More original works by Rachael Eden
£600
£75
£425
£120
£175
£175
You may also like these
£300
£300
£400