New Blood Art
Carefully curated artworks by outstanding emerging artists...
---
Motown Girls - Joyce (2016)
Jo Harris
---
36 x 41 cm | 13 x 15 in
---
Subject: People
Tags: Lips, Gold, Textiles, Decorative
---
Textiles and goldwork piece in metal and leather on velvet background bespoke framed in deep charcoal box frame with museum glass (non reflective and UV protected).
---
delivered to your door from £140.00
---
---
Jo Harris' intricate and spellbinding textiles are beautifully crafted to evoke cultural imagery such as 'motown girls' or an embroidered skull suggestive of kapala traditions. In the treatment of Harris' subjects, she creates her own aesthetic; loud metallic materials carefully bound with metal threads create glamorous and elaborate impressions. They are displayed in a museum quality box, embracing and perhaps toying with the idea of cultural artefacts and untouchable, historic luxuries. Harris' technique of using goldwork indeed plays upon century's old tradition, usually confined to works of specific and special importance. It is used here, asserting the significance and prevalence of artistic production. Using intuitive decisions and the patience and control essential to this kind of work, each piece embodies a specialised, luxurious and exciting aesthetic.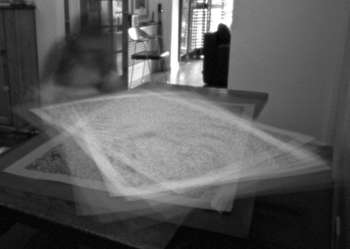 More original works by Jo Harris
£2800
£2800
£2800
You may also like these
£325
£300
£1850
£400
£2700
£950