New Blood Art
Carefully curated artworks by outstanding emerging artists...
---
Luc
Steve Mallon
---
24 x 27 cm | 8 x 10 in
---
Subject: People
Tags: Men, Eyes
---
Original mixed media painting in ink and acrylic on Fabriano paper.
---
delivered to your door from £7.25
---
---
Uncertainty and fragility mark the portrait studies of Steve Mallon, immersing his subjects in the soft fluidity of Indian ink. By keeping to often morose colour palettes, the timid figures stare out of their shallow picture planes, locked in a level of mundane solemnity. In the facial expressions of some, shocks of primary blues and reds jolt features into the foreground; in others, their faces fade away, like breath on glass. These intimate portraits stand as subdued psychological tenets; Mallon aims to raise expressionist tendencies to visualise the internal within mankind.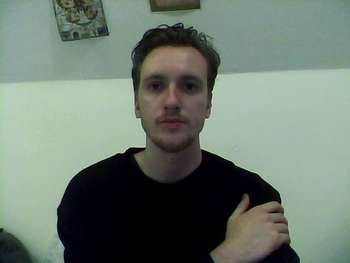 More original works by Steve Mallon
£145
£145
£145
£145
£145
£145
You may also like these
£1100
£180
£300
£300
£200
£400