New Blood Art
Carefully curated artworks by outstanding emerging artists...
---
Hythe I
Debbie Ayles
---
57 x 77 cm | 21 x 28 in
---
Subject: Places/landscape
Tags: Building, Scaffolding, Construction
---
Original painting in acrylic on watercolour paper.

"The painting is from a series of photographs I took whilst observing the construction of the University of Essex student accommodation at The Hythe, Colchester, Essex. The combination of complex structure and the background choice of colours emphasises the fact that the building is literally rising from the mud of the canal by the side of it."
---
delivered to your door from £59.75
---
---
See into the world of
Influenced by the structural nature of buildings, Ayles uses a disconnected style - contrasting background and foreground to create a paradoxical visual relationship. With washes of soft colour, Ayles illuminates a cage of architectural forms in paint. The background starkly contrasts; often a crash of layers - a sea of colour and far from being mere back drop, this space is a fascinating galaxy of colour. Fluid streaks and splatters of colour freely divulge to and fro - it resonates emotion and instinct. The foreground, remains linear in stark contrast to it's environment. The work reflects our world at its most profound: the energy of human instinct and the ability to build those towering sculptures.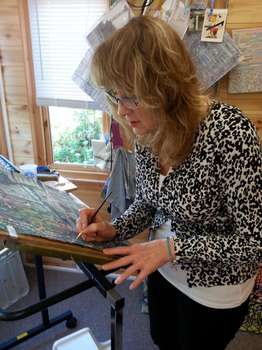 More original works by Debbie Ayles
£1195
£1195
£400
£400
£1195
You may also like these
£500
£950
£450
£1250
£2950