New Blood Art
Carefully curated artworks by outstanding emerging artists...
---
Cityscape III (Canary Wharf)
Debbie Ayles
---
57 x 77 cm | 21 x 28 in
---
Subject: Places/landscape
Tags: Building, Geometry, Detailed, Architecture, Construction, Shimmer
---
Original painting in acrylic on watercolour paper.

"The subject of the painting is sourced from architecture in Canary Wharf, London. The structure of the buildings is carefully drawn and all light variances, shadows, blinds in the windows, outlined shapes of furniture and other chance momentary glimpses of forms are added to the composition. This creates a full picture of exactly that moment in time which will never be repeated. Watercolour paper is 640gsm Arches with deckle edge."
---
delivered to your door from £59.75
---
---
See into the world of
Influenced by the structural nature of buildings, Ayles uses a disconnected style - contrasting background and foreground to create a paradoxical visual relationship. With washes of soft colour, Ayles illuminates a cage of architectural forms in paint. The background starkly contrasts; often a crash of layers - a sea of colour and far from being mere back drop, this space is a fascinating galaxy of colour. Fluid streaks and splatters of colour freely divulge to and fro - it resonates emotion and instinct. The foreground, remains linear in stark contrast to it's environment. The work reflects our world at its most profound: the energy of human instinct and the ability to build those towering sculptures.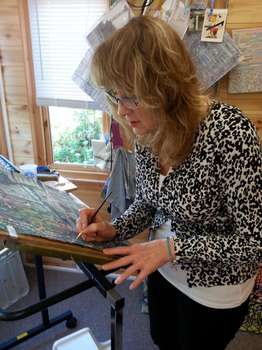 More original works by Debbie Ayles
£1195
£400
£400
£1195
£700
£1195
You may also like these
£375
£650
£330
£450