New Blood Art
Carefully curated artworks by outstanding emerging artists...
---
Arrival/Departure Liverpool Street (2015)
Debbie Ayles
---
40 x 40 cm | 14 x 14 in
---
Subject: Places/landscape
Tags: Colour, Architecture, Pattern, Construction, Structure
---
Original painting in acrylic on canvas.

"It depicts the reflections in the glass at Liverpool Street Station, London and the light bouncing off the buildings and structure."
---
delivered to your door from £25.00
---
---
See into the world of
Influenced by the structural nature of buildings, Ayles uses a disconnected style - contrasting background and foreground to create a paradoxical visual relationship. With washes of soft colour, Ayles illuminates a cage of architectural forms in paint. The background starkly contrasts; often a crash of layers - a sea of colour and far from being mere back drop, this space is a fascinating galaxy of colour. Fluid streaks and splatters of colour freely divulge to and fro - it resonates emotion and instinct. The foreground, remains linear in stark contrast to it's environment. The work reflects our world at its most profound: the energy of human instinct and the ability to build those towering sculptures.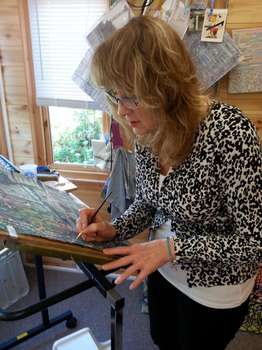 More original works by Debbie Ayles
£400
£1195
£1195
£400
£1195
£700
You may also like these
£1730
£650
£300